Thank You for Celebrating Canada's 150th Birthday with Us!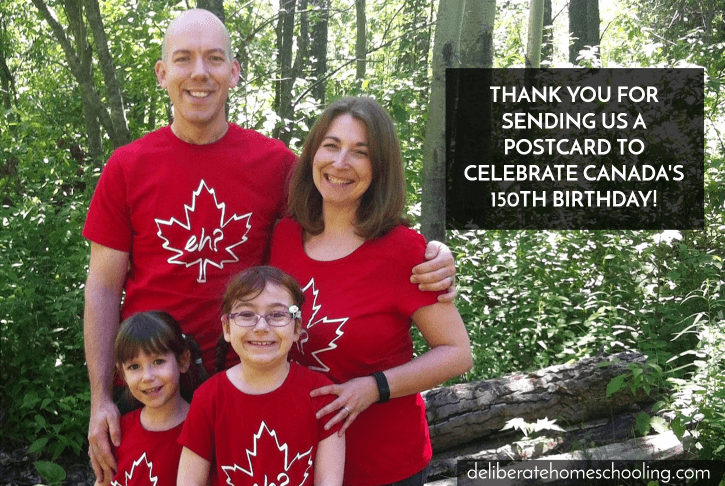 This year we started a project of collecting 150 postcards to celebrate Canada's 150th birthday!
We would like to thank everyone who sent a postcard to us! Thank you for making this project such a fun and exciting one!
Below you will find each province / territory and the name(s) of each person, business, and/or blog who sent a postcard to us.
ALBERTA
Rachel (Interior plains region)
L. Tailleur (Grande Prairie)
J. Tailleur (Grande Prairie)
BRITISH COLUMBIA
Michael, Bibianne, Abigail, Breanna (Creston)
The Veters Family (Abbotsford)
Bonnie from The Koala Mom (Vancouver)
Kramer (Victoria)
Kramer (Shuswap Lake – 3)
Kramer (Duncan)
Kramer (Monte Lake)
Kramer (Radium Hot Springs – 2)
Kramer (Vernon)
Kramer (Creston Valley)
Kramer (Gabriola Island)
Kramer (Mission)
Kramer (Revelstoke)
Kramer (Penticton)
Kramer (Burnaby)
MANITOBA
NEW BRUNSWICK
NEWFOUNDLAND & LABRADOR
NORTHWEST TERRITORIES
The Pellisey Family (Yellowknife – 2)
NOVA SCOTIA
NUNAVUT
ONTARIO
PRINCE EDWARD ISLAND
QUEBEC
SASKATCHEWAN
YUKON TERRITORIES
Thanks again for your help in celebrating Canada's 150th birthday with us! You are one of the reasons why Canada is such a great country!