Life has been challenging lately. I figure it was time to share a bit of an update and catch you up on the ins and outs (as well as ups and downs lately).
Here's what's been happening… currently.
THE LUMP.
On March 17th I got the lump removed from my right side. It was indeed the size of a a golf ball and weighed approximately 3 oz. I named it "Juniper" and I'm happy to be rid of her. My shirts hang a little better now! Yay!
SAYING GOODBYE.
On April 1st we said goodbye to our beloved friendly giant… our wonderful dog Maverick. Oh my goodness, this was one of the most devastating experiences. My oldest daughter cried off and on for days and meanwhile, my youngest daughter kept saying how she was certain he was going to come back.
I've encountered many parenting challenges. Watching your children muddle through grief is, by far, one of the most difficult things I've ever done as a parent. So very hard.
Meanwhile, I catch myself talking to a dog who's not there and expecting to see him every time I come into the house. Losing a pet is so hard. If you want to know more about our beloved Maverick and his amazing story, you can read about him in the post, That Three-Legged Dog.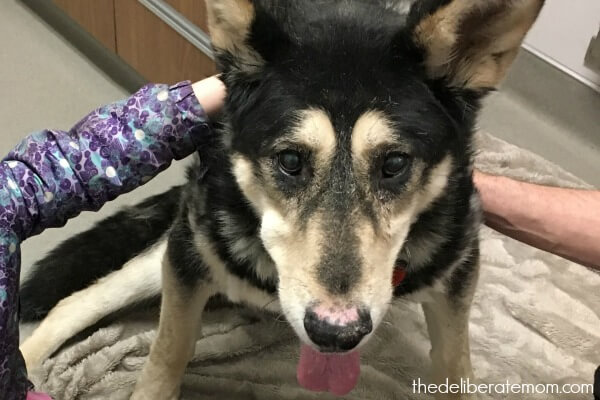 PAIN.
On April 2nd, I started to feel an intense pain in my left lower back and thigh. By the following day I couldn't sit without pain and the skin on my left thigh was sensitive to the touch. A couple days later I went to the doctor and discovered I have a pinched nerve. I started physiotherapy and have made some progress. While I can't sit comfortably for too long, there has been improvement.
OUR BIG PROJECT.
Did you know that on July 1, 2017, Canada will be 150 years old?! My girls and I are doing a project… we're asking people to mail us a postcard from their province. I'm using this as a social studies/geography activity. You can read all about the project here:
Celebrating Canada Day with 150 Postcards
Please help us spread the word! We would love to have 150 Canadian postcards by July 1st!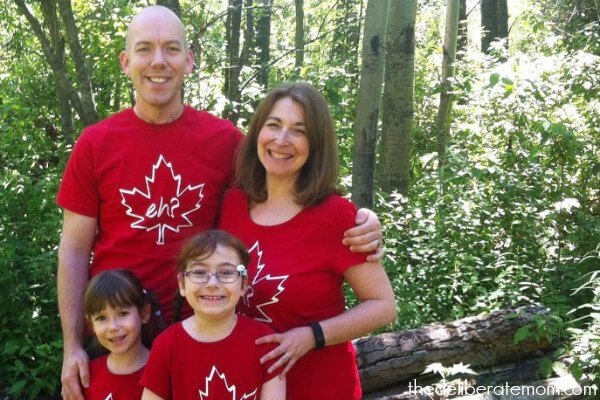 HOMESCHOOL.
I don't know why it is that every April rolls around and I'm blindsided by the fact that we're almost done our school year! As my oldest daughter wraps up her final assignments in textbooks, I'm shocked by how fast the year has gone by.
I'm starting my planning for "next year". In May, my oldest daughter will begin Grade 5 and my youngest will be in Grade 1. I'm shocked.
CREATING.
In March I wrapped up another creative project! I made a beautiful set of deluxe alphabet cards. The 104 card set includes capital letters, small letters, words, and the accompanying pictures. I love this Deluxe Alphabet Card Set. I'm thrilled at how the final product turned out.
Speaking of creating… I'll be launching a very special product at the end of April. I'm so excited to tell you about it… but I can't share it yet, so stay posted!
SIMPLICITY.
Remember how I declared that this would be my word for the year? I'm learning how to simplify but has it ever been hard! Many of my lessons feel like they've been thrust upon me (house flooding, dog dying, and being laid-up due to surgery). I'm beginning to realize though how closely simplicity relates to control. When I let go of control, things become simpler. There isn't a "plan" or a method… everything just "is". Does that make sense?
I know I need to learn to let go of control and trust God more. Heck, I've even written about it before! I think this one word resolution is morphing into something more. I just hope and pray that the rest of the lessons aren't as hard as they have been.
WHAT'S NEW WITH YOU?
It's been a rough month but there's always good that comes with the bad. I'm looking forward (and expecting) better days ahead.
So friend, what's new with you? Anything happening currently? I invite you to share!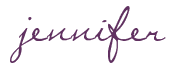 SHARE WITH OTHERS