When you're a blogger, there's no shortage of advice available on how to grow your blog. The internet is packed full of good, helpful resources.
However, if you're a Christian blogger, weeding through and discerning the information you find can be overwhelming. You want to grow your blog, stretch your reach, and share your message. You may want to make an income or grow a business. However, the challenge comes when you want to do this in a way that honors your Lord Jesus Christ.
Friends, I have the pleasure to present you with an opportunity to grow your blog in a way you would have never imagined!
Arabah Joy has created a one-of-a-kind blogging course for Christian Bloggers! This course is remarkable and I'm going to share 5 reasons why you need to take this blogging course.
Check out this one-of-a-kind course for Christian #bloggers!
Click To Tweet
This post contains affiliate links to products I love. If you click one of these links and make a purchase using my discount code, you get an awesome course, and I get a commission. That's what I call WIN-WIN! My complete disclosure policy is HERE.
Godly wisdom is different than worldly wisdom.
While there is plenty of information on how to grow your blog, there is nothing like the Godly and Biblical wisdom presented in this course. Christian Blogger Bootcamp is designed with your spiritual journey in mind. There are scriptural provocations which encourage you to look at your blog through God's eyes.
Define your WHY.
How many times do we plunge excitedly into a new venture, project, or blog and we don't establish our why? The first module of this course pushes you to define your why and serves as the cornerstone and foundation of your future work.
This is your ministry! Whether you're a mommy blogger, a homeschool blogger, a recipe blogger, or a crafting blogger… your website touches lives and can transform hearts. Defining your why will help you reach your audience the way God wants you to reach them.
Get cutting-edge tips on how to utilize social media.
Arabah Joy presents some fabulous tips on how to leverage social media. Especially notable are the modules on Pinterest and Facebook. Of all the social media platforms, these are the ones to focus on! This course delves into clever and intentional ways to use social media.
There are no time constraints.
With this course, there are no live classes. Everything is formatted so that you can go at your own pace. Plus your purchase entitles you to LIFETIME access of the materials, so you can revisit the modules as much as you like!
Become part of a supportive community.
This is probably what I love MOST about the Christian Blogger Bootcamp course – you get access to a private Facebook group.
I love being part of a community of people who build up, minister, support, and pray for one another. The discussions we've had and the prayers we've shared have had a profound impact on me.
Highlights of Christian Bloggers Bootcamp.
You get 6 FABULOUS, information-packed modules, complete with assignments and worksheets!
This course is affordable! $75 – that's it! This course is worth WAY more than its price.
Get access to a private Facebook group.
Plus there are FREE bonuses! You will also get a one-month membership to Shelley Hitz author training; Christin Slade's Ebook on blogging; and the Product Creation Workshop!
There's a 60-day money back guarantee!
A special offer from me to you!
Friends, if you sign up for Christian Bloggers Bootcamp using my discount code TDM10, I will email the template of my customized Google Analytics dashboard for you to use!
My customized dashboard makes interpreting essential analytics data, clear and easy! This dashboard displays the following: pageviews, unique visitors, keywords, sessions, visits and pages by source, top 10 traffic-sending pins, traffic from social networks, session map, average time on page by device, bounce rate, number of sessions per user (mobile, tablet, desktop), and goal completions.
Make your analytics less overwhelming and easier to interpret! With a click of a button, your Google Analytics data will be instantly slotted into this beautiful and easy-to-read template.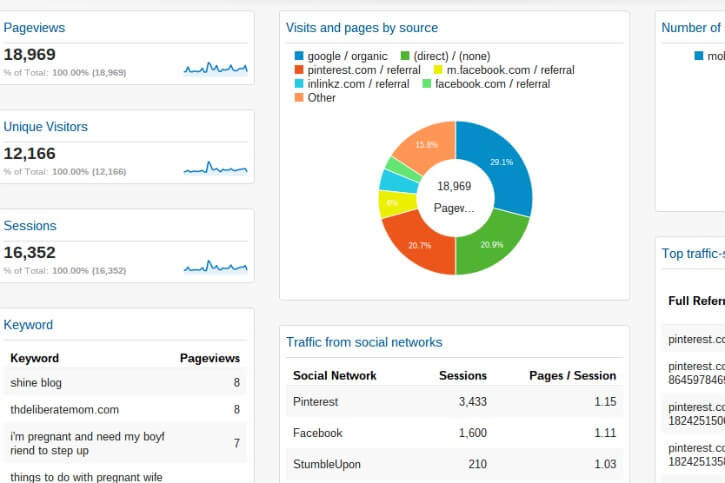 Once Arabah Joy confirms your enrollment in the course, I will email you the link to the dashboard.
So are you ready to grow your blog and expand your ministry, alongside your brothers and sisters in Christ?
Use the promo code TDM10 at the checkout to receive 10% off  (and don't forget, once your enrollment is verified, I'll send you the Google Analytics dashboard as an exclusive bonus)! Sign up HERE!
I'm signing up for Christian Bloggers Bootcamp and getting 10% off! Want to join me?!
Click To Tweet
Please note: Registration is open for a limited time! You will only be able to enroll from Friday, November 27th to Tuesday, December 1st.